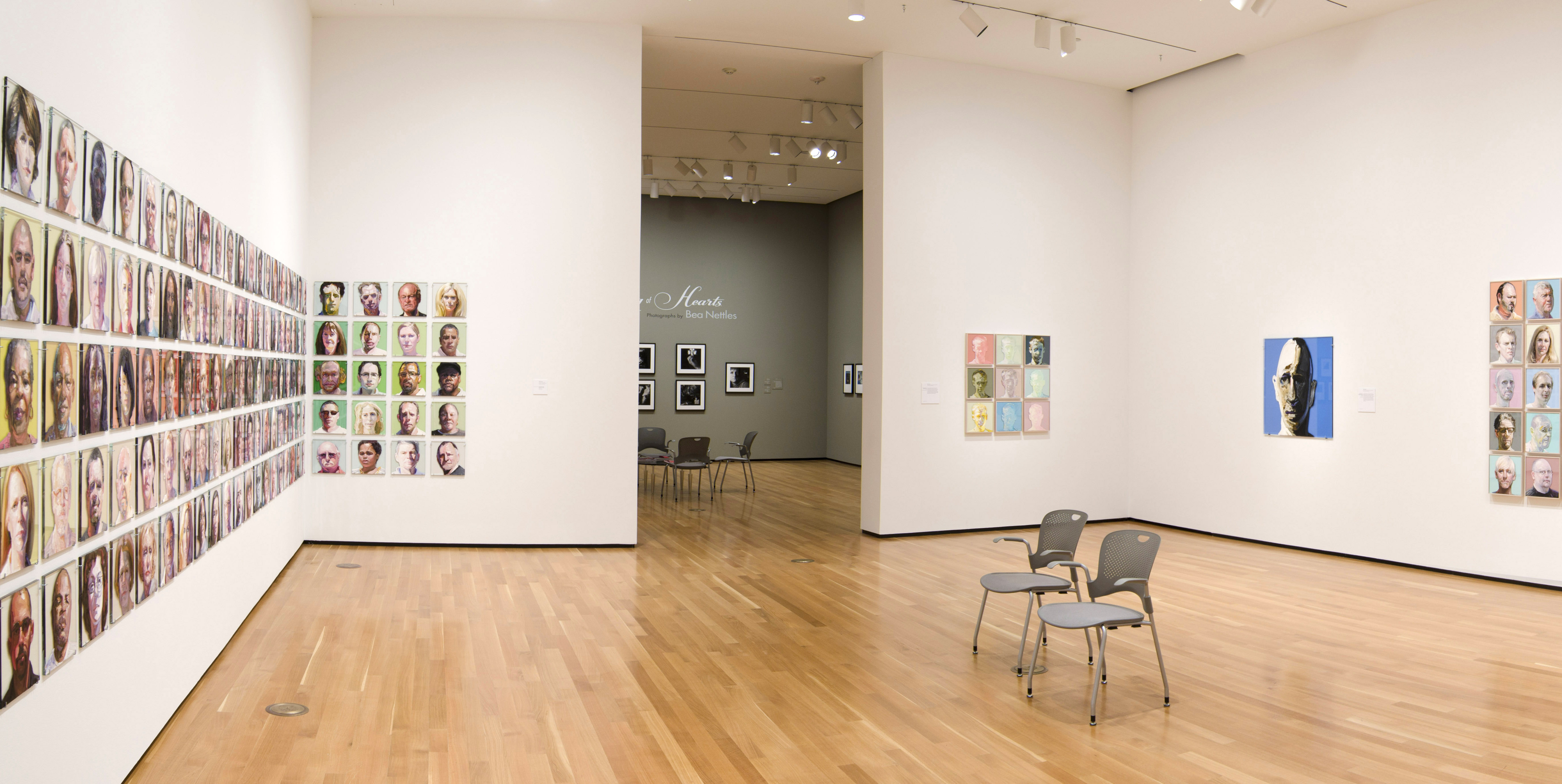 ทดลองเล่น เกมส์สล็อต ฟรี_ถ่ายทอด สด ยู ฟ่า คืน นี้_แลก ชิป มา เก๊า_เกมออนไลน์ที่ดีที่สุด_สล็อต ฟรี เครดิต ไม่ ต้อง ฝาก เงิน2019
March 03 - May 07 2012
Akron Art Museum
People often say they know nothing about art, that they wouldn't know the difference between a masterpiece and a mud pie.
Not knowing what to look for or how to judge a work of art is intimidating, but there's a remedy for that, right in our own backyard.
The cure comes in the form of two portrait exhibits: Ray Turner: Population at the Akron Art Museum through May 27; and Rembrandt in America at the Cleveland Museum of Art through May 28.
The Cleveland museum's groundbreaking exhibit contains more than 50 works, with about 30 autograph paintings by Rembrandt van Rijn, the largest number of the artist's authentic paintings assembled from American collections in a century.
It is almost a given as a solution to art blindness, since it is set up to compare portraits painted by the Dutch master himself with those painted by his studio, his followers and his imitators.
The Turner exhibit — 190 paintings from the Population series, plus a number of more abstracted works — not only demonstrates his conceptual approach to depicting the human face, but also offers viewers a virtual doctoral dissertation on the various styles and approaches to painting portraits in the last century or so.
With the Rembrandts, the viewer is allowed the luxury of being able to scrutinize the brushwork of the master compared to that of lesser lights.
With the Turners, we are able to see a range of ways a portrait can be painted, from an almost photographic exactitude to a highly expressive abstraction.
Moreover, we are able to see for ourselves how, in the hands of masters, life can be injected into mere pigment and oil.
Rembrandt made his early reputation as a precise and meticulous painter. All one has to do is to look at the fastidious precision with which he paints a lace collar or the smooth and satiny quality of his sitter's complexion to see that Rembrandt knew his way around a brush and palette.
But these early portraits were also a product of their context — the conservative atmosphere of Amsterdam. Executed with a smooth finish and absorbed with the formal details of a status-obsessed society, these formal likenesses were commissioned portraits.
But the tradition of portraiture in Amsterdam during the second and third decades of the 17th century was actually much more diverse, innovative, and even experimental than elsewhere in the Dutch Republic.
Into this environment of wealth and status Rembrandt introduced a phenomenal range of animation and gesture, creating images that are truly believable, living presences.
Rembrandt filled his canvas with the personality of his sitter, whereas followers and imitators tended to distance the image from the viewer almost as if they sensed it wouldn't bear up under close examination.
As he aged, Rembrandt began to favor abstraction, became more inclined to brandish his brush strokes, and grew increasingly enamored of the oil painting medium for itself. There are many practical explanations for this, from waning physical prowess and stamina to problems with eyesight.
But just as likely is an understanding that he must have arrived at: inference and suggestion are much more alluring than precision and bland statement of fact; mystery holds more fascination than stark reality; and the promise of something is frequently more delectable than its fulfillment.
Likewise, Turner with his Population series demonstrates that we are as drawn to images that are nearly abstract as we are to those that are mirror likenesses.
Population is an ongoing exhibit that features an ever-expanding series of portraits by Turner. Painted on 12-by-12-inch glass squares, the portraits are displayed together in a grid pattern.
Beginning with the Pasadena Museum of California Art in 2009, Turner has recruited his subjects from the communities that host the exhibit. In September 2011, Turner came to Akron, where he met and photographed several residents from University Park who had been chosen for their contributions to local service organizations.
Returning to his California studio to paint, Turner worked from the photographs as well as his own impressions of the people he met. By photographing his subjects in a bright, angled light, some facial features are highlighted while others are in shadow. By delaying the actual painting, Turner allowed himself to magnify, distort or reimagine his initial impression of the sitter.
This sharp delineation of light and shadow not only allows Turner to use a broad range of colors in his portraits, but it also allows him to amplify effects, and like Rembrandt, use those to animate his subjects.
Likeness isn't an issue with Turner, who says that part happens naturally for him. The point of these portraits for Turner is that they allow him to push paint around, play with layers and textures and demonstrate again and again that art rules are made to be broken.
Turner confided to his workshop, held before the opening of his Akron show, that it had taken him 28 years to get the rules and opinions he had picked up in art school "out of my head." He pushes back against those voices, even defying age-old dictates on the quantity and quality of paint with which he loads his brushes.
One of the unique aspects of the Population portraits is that they are mounted on the wall directly over squares of paint in a range of hues. The scheme for these background colors differs from one installation to the next, not only making each installation unique, but demonstrating the effects of color.
"They really do look different on different backgrounds," said Danielle Meeker, Akron Art Museum curatorial assistant.
Anyone can see and appreciate that, without even knowing that Turner also references the work of such iconic Modernist and Contemporary masters as Josef Albers' Homage to the Square, Andy Warhol's portrait series and Lucien Freud's bravura brushwork. His George Monroe and Good Man/Bad Man series especially reflect these sources.
"People know that the center row is where the Akron portraits are, but they assume that others in the grid are also from Akron," Meeker said, "because they keep seeing people they think they know.
"The white-haired man in the top row, for instance, many of the staff kept saying looked like [glass artist] Paul Stankard." (The Akron Art Museum has the largest publicly held collection of Stankard's works.)
"When they pointed him out to Ray, he said, 'Oh, yeah, that is Paul Stankard.' Ray met him in Tacoma, Wash., where the next venue for this show will be at the Museum of Glass."
The Akron sitters have been invited for a talk at 6:30 p.m. Thursday to comment about their portraits, respond to them and talk about their experiences, Meeker said. The event will also give the museum and the subjects a chance to explore the idea of community as a concept, as well as from the point of view of individual sitters.
The opportunity to begin a journey into a greater appreciation of the visual arts has never been more convenient or bountiful as in these two exhibits. It's an opportunity not to be missed.
Send information to Dorothy Shinn at the Akron Beacon Journal, P.O. Box 640, Akron, OH 44309-0640 or dtgshinn@att.net.
ทุน 500 บา คา ร่าCatalogs of Ray Turner Exhibition at the Akron Museum of Art