คาสิโน มาเก๊า แต่งตัว_วิธีเล่นบาคาร่าให้รวย_royal online_เงื่อนไขการถอนเงิน w88 _เหรียญฟรีอัตโนมัติ
October 2013 | Dave Lavender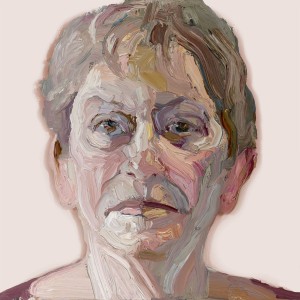 HUNTINGTON, WV – Huntington Museum of Art
Armed with his digital camera, sunny Southern Californian Ray Turner in all his friendly, disarming charm got Huntingtonians such as Phoebe Randolph, Sister Diane Bushee and Rose Ritter chatting and smiling — then stealth-like he pounced with paparazzi precision.
Rotating around them to get as many angles as possible, Turner rapid-fired off up to 100 up-close portrait shots.
Within minutes the session was over, and the 26 Huntingtonians chosen for portraits — everyone from lawyers and librarians, potters and preachers, and dancers and doctors — were back doing what they do.
Out on the West Coast, Turner fused those pics and began his oil-brushed process of fluidly painting on glass our proverbial patchwork quilt of people in a kinetic and vibrant exhibit he calls "Population."
Come 7 p.m. Friday, Oct. 18, Turner will speak about this ground-breaking portrait project at a free reception at the Huntington Museum of Art, where folks will celebrate the Huntingtonized "Population," which includes 26 portraits of Huntington residents as well as many other Turner works.
The reception for Turner is free and open to the public.
Turner, who graduated from the Art Center College of Design, Pasadena, Calif., in 1985, and where he subsequently taught for 13 years as a professor of painting and drawing, said he conceived and began "Population" in 2007. He nailed up his first show of "Population" in 2009 at home at the Pasadena Museum of California Art, and that same year began a national tour.
Drawing record crowds across the nation, "Population," which Turner hopes to take abroad as well in the next few years, has been exhibited in nine museums from Akron, Ohio, and Wichita, Kan., to Alexandria, La., and even the prestigious Museum of Glass, in Tacoma, Wash., where Turner grew up.
Now at the Huntington Museum of Art, "Population," (with some Huntington faces included) will continue to tour through 2019.
Speaking from his studio in California, Turner said "Population," was birthed in part out of his love of being around and being inspired by people whether it's been, in the case of "Population" exhibits past, everyone from "the groundskeeper to the Governor," and in Los Angeles, a series of 28 homeless people.
"I like people, and I love engaging and conversing and also challenging and inspiring people and being inspired by those people," Turner said. "This is how you do it, you get around a bunch of smart people who are creative and that usually stirs everybody and it is very rewarding."
For his talk, Turner said he'll speak a bit to how the "Population" as well his "Good Man, Bad Man," series has evolved, how he has been impacted by the people he has met reaching out to cross sections of folks across America, and how the arts has fueled his life.
"I am passionately driven about the arts and why it is important and how to get engaged, and especially with the young kids I love to fan their embers and help them understand the possibilities of pursing art as a career or at least engaging them about instilling creativity in whatever they pursue," Turner said.
Huntington Museum of Art director Margaret Mary Layne said Turner has a real knack for understanding people and using his open mind to color in their portraits in a vivid way.
"I met him for a day and spent a whole day with him and he is the kind of person you feel like you know already," Layne said. "That may be what gives him the ability to see the inner essence of people. He is very open himself and that allows you to connect with him and that leads to a quick connection and you can't do that with everybody. He has an open heart and that makes a big difference."
Layne said Turner's work truly inspires, connects and embodies the motto of HMOA, which is "You Belong in a Museum."
"I think what really intrigued us about what he is trying to do, which is when you put the whole thing together it is like the face of America," Layne said. "To me that was real important, and I also felt like it gave us the opportunity to be interactive with our community and with different people in our community and be engaged in a way they had never been before and I just loved that idea."
Layne said she and the museum's long-time public relations director John Gillispie went through a list of about 150 people in Huntington not only looking for a cross-section of ages, races and occupations but also taken into consideration people with interesting facial features.
"He is an artist who is interested in the architecture of the head and he paints from layers forward from the back when he creates a face, so we were trying to think of that as well," Layne said. "We wanted to have people from all age groups and from every walk of life and it was a real challenge to whittle it down to 24 people. There were a couple of people we picked who didn't want to do it, both of whom had fabulous faces. People look at themselves through the eyes of Hollywood and they don't really see who they are and what shines through. That to me is one of the most interesting things to me about the portraits is that he did not know any of these people. He talked to them for five minutes and with many of them it is like he has painted the spirit of that person. I found that astounding."
Huntington's "Population" includes some famous ones such as former NFL star and Super Bowl champ with the New England Patriots, Troy Brown, Sister Diane Bushee, vice president of St. Mary's Medical Center, Jim Casto, retired editor with The Herald-Dispatch, vocalist and arts administrator, Randall Reid-Smith (who heads up West Virginia's Division of Culture and History), Dr. Joe Werthammer, church leaders, Rev. Reginald Hill and Bishop Samuel Moore, architect, Phoebe Randolph, and Tyson Compton, who heads up the Cabell-Huntington Convention and Visitors Bureau.
Perhaps one of the most talked about portraits is also one of Turner's favorites – that of Cabell County Public Library Executive Director Judy Rule.
"She is absolutely stunning and the portrait arrests you and people are drawn into it whether you know Judy Rule or not," Layne said.
Several people who've been dedicated to the museum are in the show such as Julianne McNeer, who has been a docent for more than 50 years, ceramic artist in residence and instructor Kathleen Kneafsey and her daughter Mary Margaret Clouse, folk artist Earl Gray (who carved the stone faces along the museum's trail), Zoe Myers, who teaches Saturday Kids Art, Rose Riter, Layne, Ron Morgan, Anna Lafferre (who now works at Huntington Quarterly) as well as associate curator John Farley.
Turner wasn't originally painting Layne and Farley, but decided to once he got to Huntington and began working with them on the project.
Farley, who runs Gallery 842 in downtown and the Birke Art Gallery on the Marshall University campus said "Population" is unlike most any other show where curators choose from works already created for an exhibit that works for the gallery space.
Here in Huntington, the local portrait subjects make up about 20 to 25 percent of the show which features another 100 portraits that travel in his larger body of "Population" work not to mention other large-scale works in his "Good Man Bad Man" series that are also on display.
In addition to the cache of local people already drumming up an automatic interest for the show, Farley said the exhibit also makes you look at your community and its members in a new light and also welds new connections.
"In my mind it does reinforce what is one of the core missions of the museum and that is to be engaged in the community and to reflect the community and that is in a very real and tangible way," Farley said. "It also introduced me to a number of people. While I did know many people I did not know all of them, and so it definitely expanded my circle so to speak, and that is just me speaking as one person from one angle of it."
Turner, who as the Museum's visiting Walter Gropius Master Artist will be teaching a hands-on workshop called HMA titled "Population: Good Man Bad Man" from 9 a.m. to 4 p.m. Oct. 18-20, said that there are a lot of mixed emotions as people, many of whom have perhaps never had a portrait painted of themselves, see his take on their likeness on a wall.
"It is representative pieces and interpretative and just with the photographs alone you can take 100 photos and many women will not like one of them," Turner said with a laugh. "Most guys tend to not be as concerned and that is an interesting study. With the women I tend to shoot more of them and then cross my fingers and hope they have some experience or history with art and general and are understanding… I hope they can see it as art at the moment based on a superficial moment where I am shooting photos of them and then doing this painting of this image and that it is part of this thing, and maybe there is a little horror involved. The thing I do like about it is that it is this humbling experience both to do what I am doing as well as for the people who are a part of it. It is a beautiful exchange that I think for many of us is exhilarating and it really is like 'oh wow, I am part of this thing that is bigger than I am.' "