เครดิตฟรีไม่ต้องฝาก _วิธีสมัคร w88 _สล็อตเงินจริง_เล่นบนแอพ_แจกยูสเซอร์ฟรี
November 2012 | By: Rosemary Ponnekanti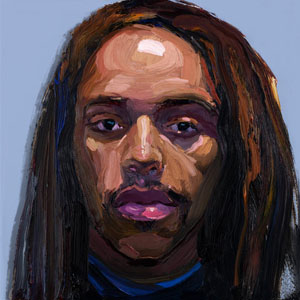 The Stadium High alumni's oil-on-glass paintings convey humanity's complexities. The show runs through Feb. 3 at Tacoma's Museum of Glass.
If the eyes are the windows of the soul, Ray Turner's art adds in the cheekbones, nose, lips, skin and hair to form a more complete picture.
The California artist and former Tacoman (he's a Stadium High School alumni) does more than paint portraits in his show "Population," which just opened at the Museum of Glass. With thick strokes and an empathetic eye, Turner sets out to capture the whole soul in the faces of friends, family and locals that he paints on glass squares – work that spans the human experience.
"Population" covers just four walls in a small gallery in the middle of the bigger exhibits "Scapes" and "Lino Tagliapietra," but it packs a big punch up close. On the south wall, "Good Man/Bad Man" takes inspiration from Turner's young son's question about who's a good guy and who's not, and assembles a grid of 45 faces on black glass that range from superhuman to subhuman. Like Edvard Munch's "The Scream," these faces drip fear, terror and evil, their noses, lips and cheeks melting inward and downward in anger, alienation or coldness. Noses pudge in, eyes droop or dwindle into black holes. The center panel is red glass, like a bloody heart. If there's a good guy in there, he has the uncaring pale blankness of a stone angel. Look closer, though, and the childish stereotype reveals a deeper complexity. Most faces are not actually evil – they're some mixture of perplexed, stupid, regretful, victimized or just unthinking. In his statement, Turner describes all of us as a blend of good and evil; his paintbrush tells a more subtle story of choice and experience.
On the west wall, Turner challenges visitors to look beyond stereotypes. "Grey Scale" mixes up 11 portraits of every human coloring on a row of glass squares ranging on the gray scale from black to white. From the deeply blue-black skin and hair of a rather surprised-looking man to the grimace of a platinum blonde, the portraits' randomness comments on the black-and-white spectrum, reducing it to a meaningless pixel value, an arbitrariness that has nothing to do with human character.
Across the room is the major wall of portraits: a 21-foot-by-5-foot matrix of human experience. For locals, of course, the interesting factor is who these people are. Turner, who graduated from Stadium in 1976 and adds to the "Population" collection wherever the exhibit goes, has included in the MoG show portraits of museum glassblowers, students of Jason Lee Middle School's Hilltop Artists in Residence program, members of the Puyallup Tribe, local artists and fellow Stadium alumni.
Nobody's labeled, but you might recognize some if you move in those circles.
But even if you don't, you'll recognize yourself. Because in searching for "the common thread of human experience," for the soul expressed in the face à la writer Ayn Rand, Turner captures with his brush strokes the complex emotional history of every human adult.
"They all look so sad," murmured one gallery viewer last week.
Not true. Yes, there is sadness – but there's also fortitude and hope. There's tranquility, determination, patience, humor, suffering, ambition, self-confidence, distrust, intelligence, artistry, possibilities.
It's a panoply of humanity, conveyed in layers of paint that makes perfect use of pink and white highlights, black and purple shadows, and which gives a sculpted dimension to the face atop the smoothly colored glass in a rainbow matrix from green to teal to lilac to butter yellow.
Turner doesn't pretty life up – or people. This isn't Photoshop; it's the face you'd see in the mirror at the end of a long day, if you looked with a compassionate but unswerving gaze. There's enough sagging and wrinkles to be realistic, enough distortion to be tantalizingly expressionist. But above all, there's empathy. Alone on each of the north walls around the door are two single works, each framed in a box.
On the left, "Rimbaud" is the essence of humanity pushed to the edge: one eye weirdly blue, the other dripping blood; lips like sloppy concrete, ears and nose minus cartilage, the glass front shattered and reglued. Like the surrealist poet, it's a comment on the human extreme.
And on the right is "Kayley," painted just this year. She's an ordinary young woman, but with half her hair and face honey-blonde, half an unearthly bleached-white.
Her smile is calm, defiant, certain. On her neck is a hole – a tracheal breathing tube? Hard to tell. Like the "Mona Lisa," "Kayley" is enigmatic – and in a way, that seems to be the point of Turner's work.
In his myriad of characters, colors and gazes, Turner isn't just making us realize how we judge people. He's pointing out how simplistic that judging is – because if we truly look, we'll see ourselves as well.
blog.thenewstribune.com/arts